a tennis pro shop for the saint-tropez jet set
Thom Browne takes to the coastal village of Ramatuelle, just south of Saint-Tropez, to open its first retail footprint in France. The Tennis Pro Shop is located at EPI, a private members club which has since 1959 overlooked the blue waters of the Pampelonne Beach. The resort-minded area exudes the luxury exclusivity that is now instilled into the newly completed interiors designed for Thom Browne by architect Flavio Albanese of ASA studio albanese.
This project marks a continuation of the partnership between ASA studio albanese and the fashion label. Together, the team has already completed retail locations for the brand in Costa Mesa, California, and in Miami's Design District. This time the space infuses the familiar hallmarks of Thom Browne's signature style with the resort-minded spirit of the French Riviera.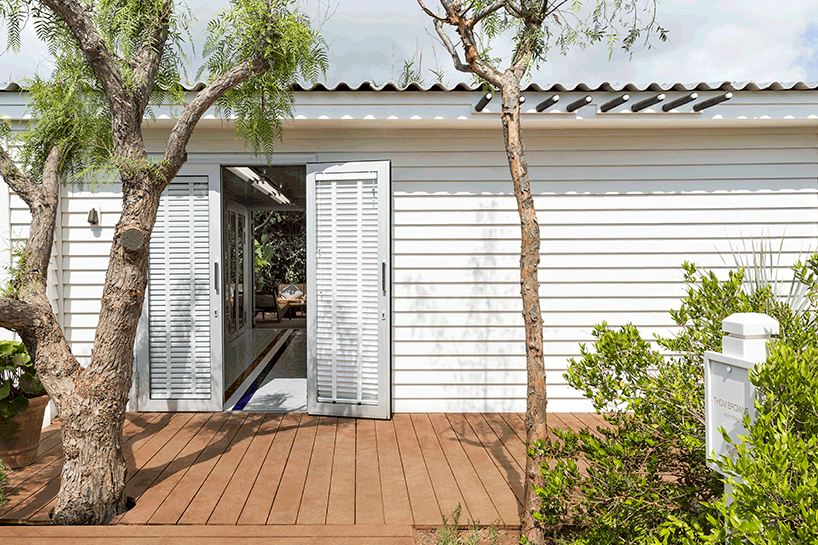 images courtesy Thom Browne
behind the venetian blinds
The architects at ASA studio albanese reinterpret the characteristic elements of their Thom Browne interiors with inspiration from the resort atmosphere of Saint-Tropez. Approaching the humble one-story structure, the Tennis Pro Shop can be recognized at once by its Venetian blind-covered windows — a signature of the luxury fashion label.
Inside, the space is wrapped in gray subway tiles. This finish mimics the Miami flagship with lighter tones drawn from its surroundings, especially the minimalism of the EPI wellness and sport retreat. The wash of calm, toned-down hues are interrupted by a vivid strip of red, white, and blue in the subway tile flooring. This vibrant stripe, another signature of the label, runs from door-to-door and leads guests from the resort toward a private sitting area.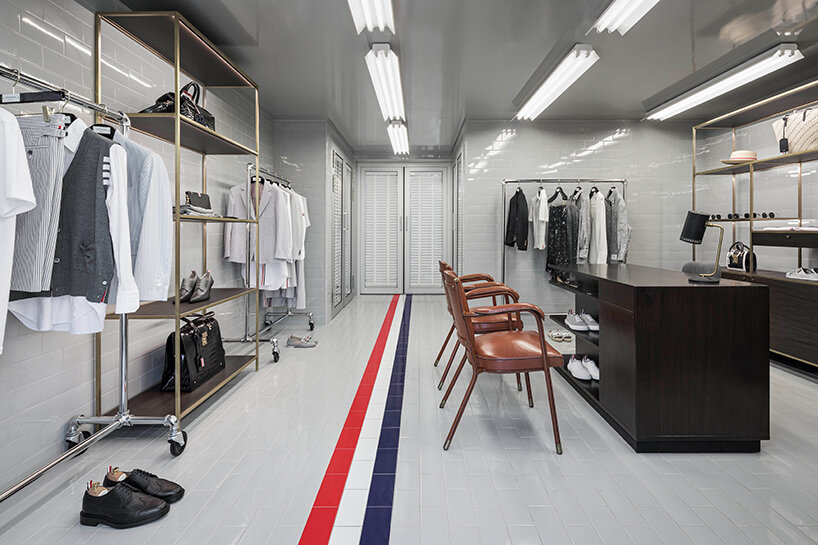 limited-edition goods alongside mid-century furniture
Thom Browne and the design team work together to fill the Saint-Tropez location with mid-century furniture by both American and French designers — including Dunbar by Edward Wormley, Paul McCobb, Jacques Adnet, Pierre Jeanerette and George Nakashima.
The luxury label's signature ready-to-wear, tailoring, and accessories are displayed alongside limited-edition EPI-branded Thom Browne goods, which will continue to be developed in new iterations every season. Following EPI's vision of privacy and exclusivity, the Thom Browne Tennis Pro Shop is by appointment only.