a state-of-the-art proposal by unstudio
UNStudio unveils its design proposal for NION, a state-of-the-art, 45,000 square-meter office tower in Frankfurt. The project is set to become one of the 'most sustainable office buildings in Germany,' integrated with resource-saving technology and shaped with forward-thinking architectural concepts. Selected by Groß & Partner for further development, it will mark the latest addition to the hybrid city district of Europaviertel which has been continually developing since 2005, merging residential, work, and recreational areas.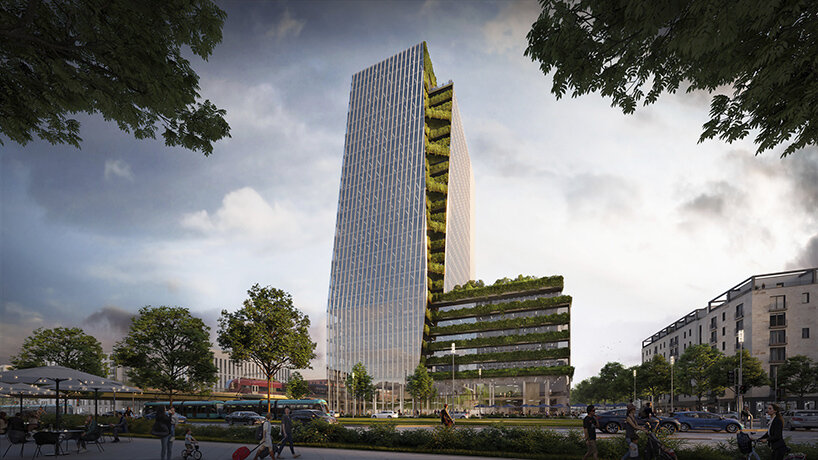 visualizations by Moare | @moare.visuals
nioN: the performative tower in frankfurt
Seeking to build NION as one of the most sustainable office buildings in Germany, UNStudio focuses on both environmental and social aspects. The tower isn't just designed with intensive greening throughout — the DGNB Platinum Certified building will employ a low-carbon load-bearing structure. The construction will see the use of prefabricated components, as well as a modular supporting structure. The architects further focus on the use of sustainable, recyclable and circular construction materials. Meanwhile, flexible floor plans will ensure spatial efficiency and future-proofing.
NION will intelligently respond to the weather and actual demand, furthering its sustainable concept. The design integrates a photovoltaic facade, rainwater management, geothermal heating and cooling (thirty to forty-percent cooling, and seventy-percent heating), smart building management, demand-based air conditioning and LED lighting, energy recuperating elevators, e-charging stations with intelligent load management and green and open work environments. What's more, a fifty-percent closed facade will work to minimize solar gain.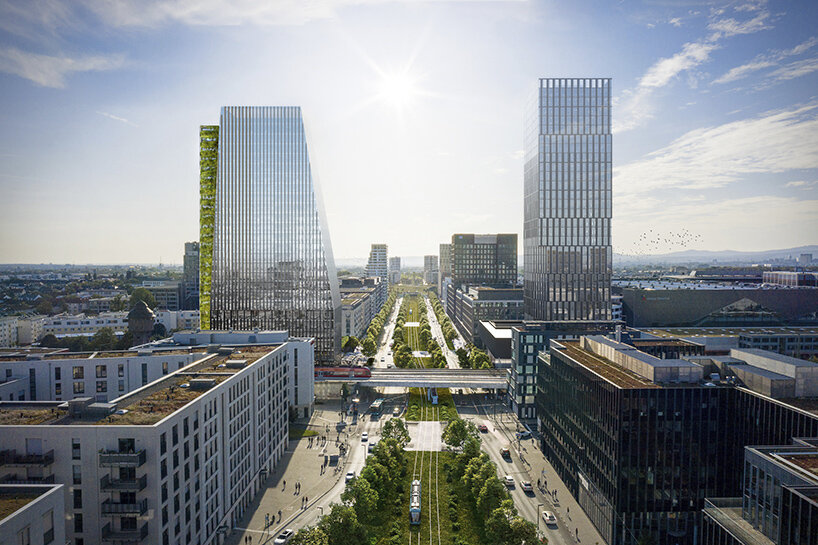 social sustainability
UNStudio also designs NION to be socially sustainable, with specific programming that encourages, communication, gathering and knowledge sharing. Additionally, semi-public use is incorporated by way of dining establishments, a bakery and a café on the ground and first upper floor, alongside the inclusion of partially public urban space in front of the base building.
'A comprehensive sustainability and ESG approach for NION has been at the forefront from the beginning' comments Jürgen Groß, managing director of Groß & Partner. 'The tower will offer great added value to its surroundings, not only in terms of design, but above all climatically and ecologically.'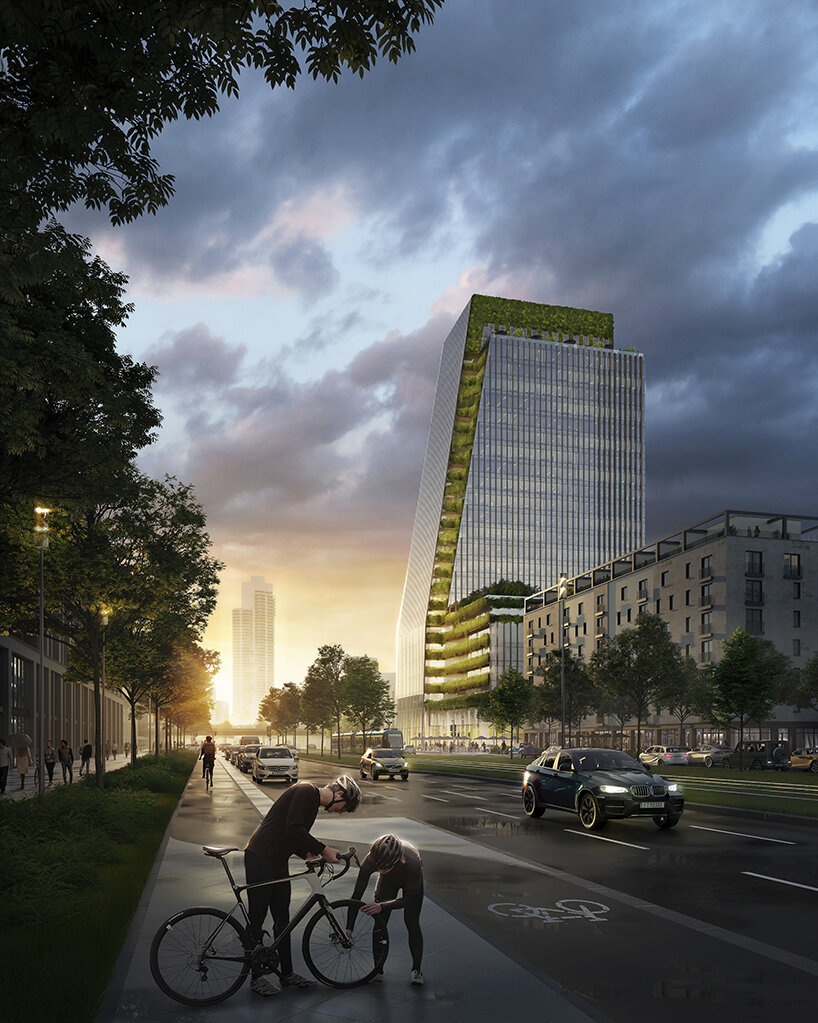 the design integrates a photovoltaic facade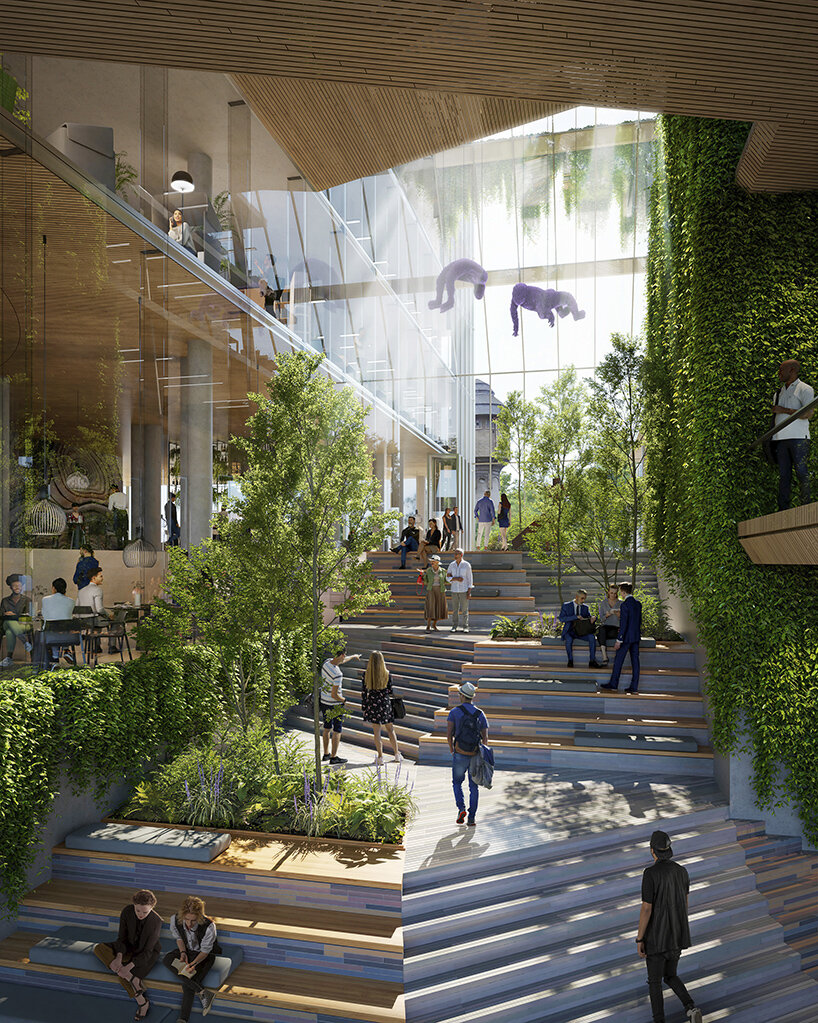 the DGNB Platinum Certified building is more than just intensive greening throughout