UNStudio's Echo is the new energy-generating building at TU Delft
Echo is an energy-producing interfaculty teaching building at TU Delft, designed by UNStudio. This project is set to contribute to TU Delft's ambition to operate in a fully sustainable way and evolve into a carbon-neutral campus by 2030. The final design optimizes transparency and interaction between levels, while fully supporting a diversity of educational typologies and teaching methods. In collaboration with Arup and BBN, the architects created a structure that meets the needs of adaptability and well-being of the students.
'The Echo building teaches by example. In this highly compact building, the use of space is maximised, while bringing students from different disciplines in closer contact. Not only can they condense their learning experience and learn from each other, but they can also learn from the building itself,' mentioned Ben van Berkel, the founder and principal architect of architectural practice UNStudio.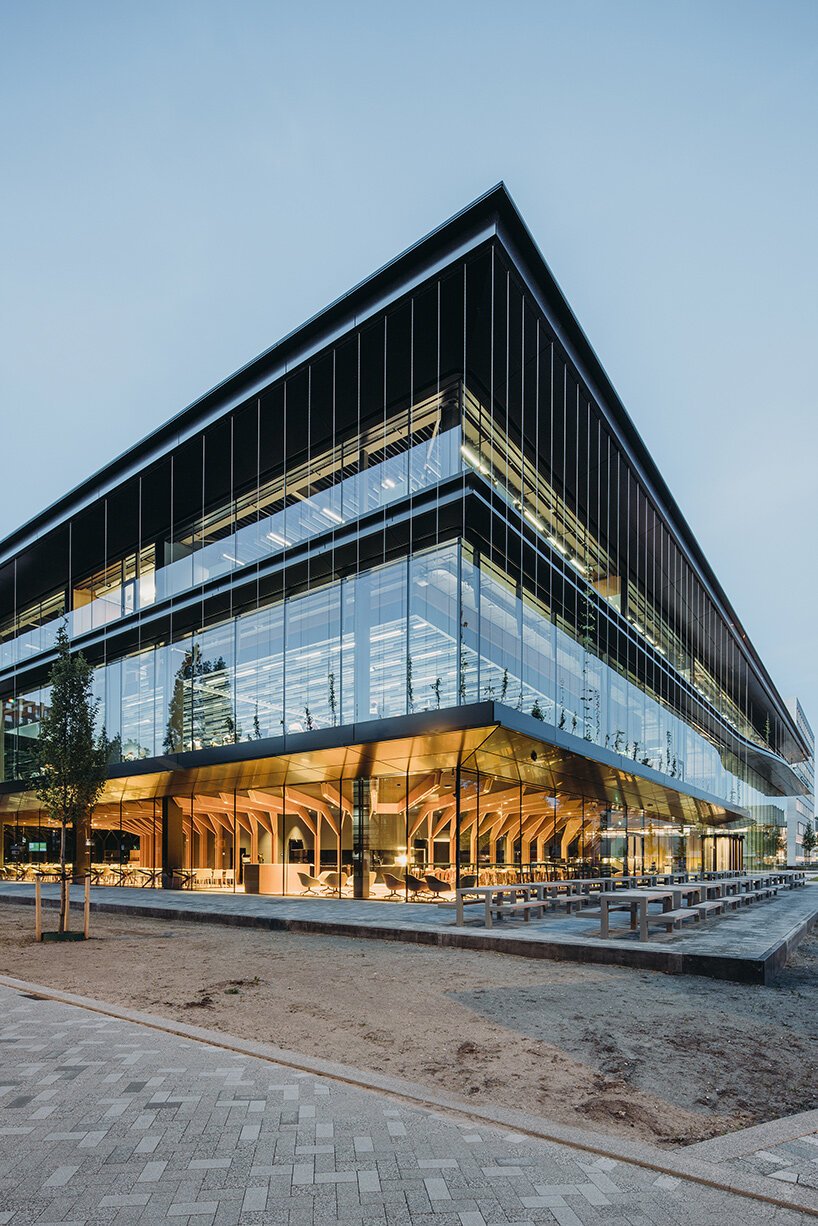 all images Evabloem unless stated otherwise
an Energy-producing structure
In partnership with Arup and BBN, UNStudio (see more here) sought to generate a sustainable campus building where people's and the planet's prosperity meet. To achieve these ambitions, the design team opted for a structure that harvests more energy than it requires for its daily operations, such as electricity consumption for laptops, lighting, and catering. This is guaranteed with the bid of 1200 solar panels, smart installations, good insulation, and a heat and cold storage system. To further reduce the project's footprint, the design team selected furniture that has been reused before, extending their life span.  
'Unlike traditional campuses that operate in silos, the future campus needs to be programmed with agile spaces that invite students and faculty to learn, collaborate and co-create. As student numbers continue to grow, educational buildings need to be extremely flexible, to operate through a model based on shared interfaculty use that can promote a more generalist education,' commented Ben van Berkel.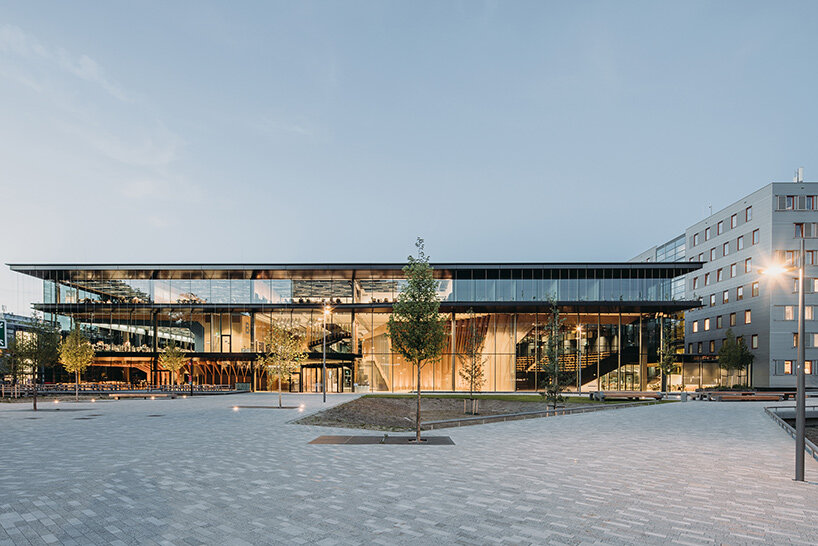 optimizing openness without compromising sustainability
Openness and transparency were fundamental key elements for the design of Echo. The structure is clad in generous amounts of glazing allowing a maximum contribution of natural light to the interior. Apart from natural light and ventilation flow through the interior spaces, the floor-to-ceiling openings create a visual communication with the wider campus and surrounding nature, which, in fact, further adds to its bright, airy atmosphere. The whole structure supports an open experience that invites users and visitors to interact, through a series of facilities that promote physical, psychological, and social health. It's a welcoming environment that connects its inner world with the public social realm. 
According to UNStudio, a 'future-proof' campus is an active campus. That said, the building not only seeks to create a connection with the surrounding public space but also, through its transparent ground floor, turns into a covered public square that makes the invisible world of learning a visible and engaging experience.
However, the expansive glass surfaces do not contribute to the danger of overheating. This is prevented by a combination of sun protection and the low solar penetration factor of the glass. In addition, the deep horizontal aluminum awnings keep out excess solar heat. These canopies are interconnected by cables along which climbing plants form a subtle green facade that filters daylight. To ensure clean air in the building, a plenum floor is installed above hollow-core slabs. As the architects explain, here fresh air is pumped up from the floor, rather than down from above, thus avoiding circulation around the room. The vents for this system, along with the computer floor installation, can be easily moved if the room layout changes in the future.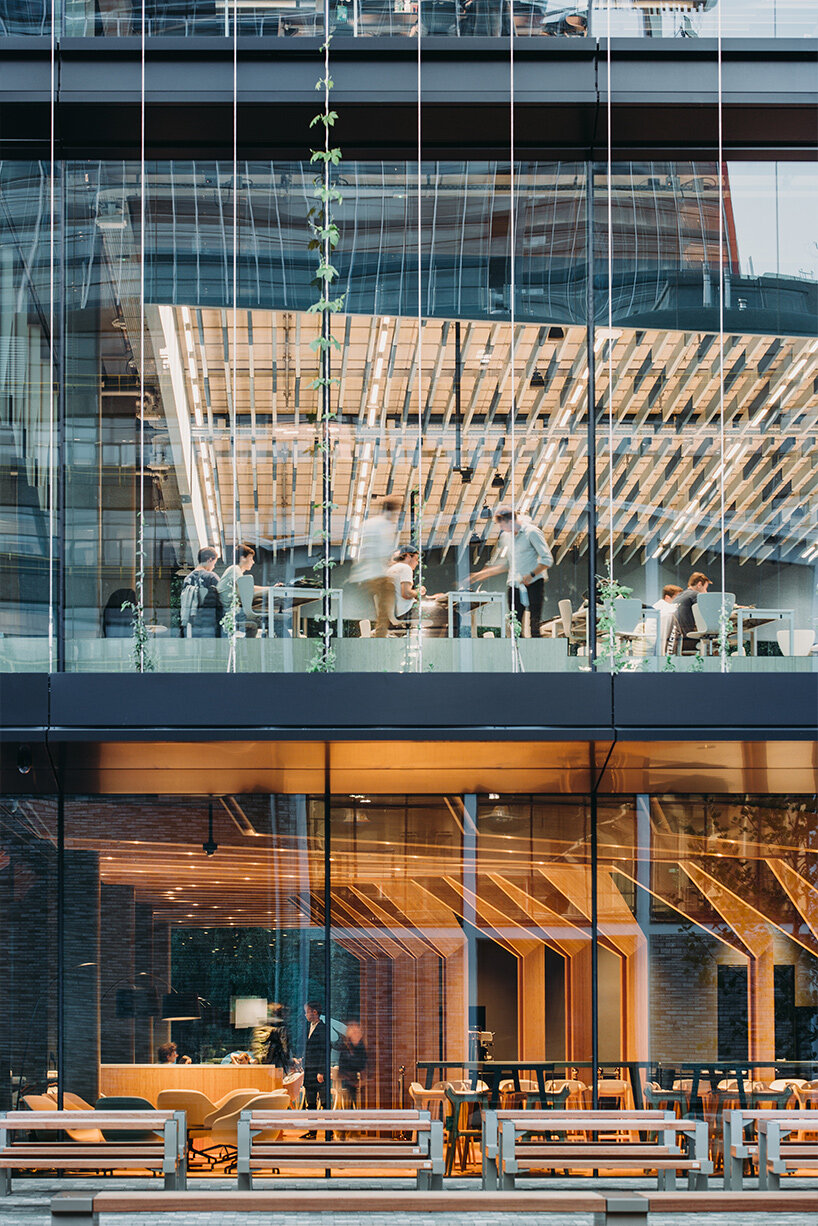 The interior offers a warm welcome to visitors
A grand spiral staircase takes over the interior, promoting physical movement through the building, and thus contributes to the health of the users. Following the architects' intention, the design supports the contemporary culture of 'Everything Anywhere'. This approach set great importance on the in-between spaces, as well as the physical movement. Echo, therefore, provides a variety of platforms for reflection, inspiration, and communication.
Throughout the interior, bamboo ribs extend along the ceiling, forming an integral part of the design. The crafted look and feel of the bamboo are extended around the central staircase, that in one gesture joins the study and cooperation spaces into one connected world of learning, collaboration, and connection.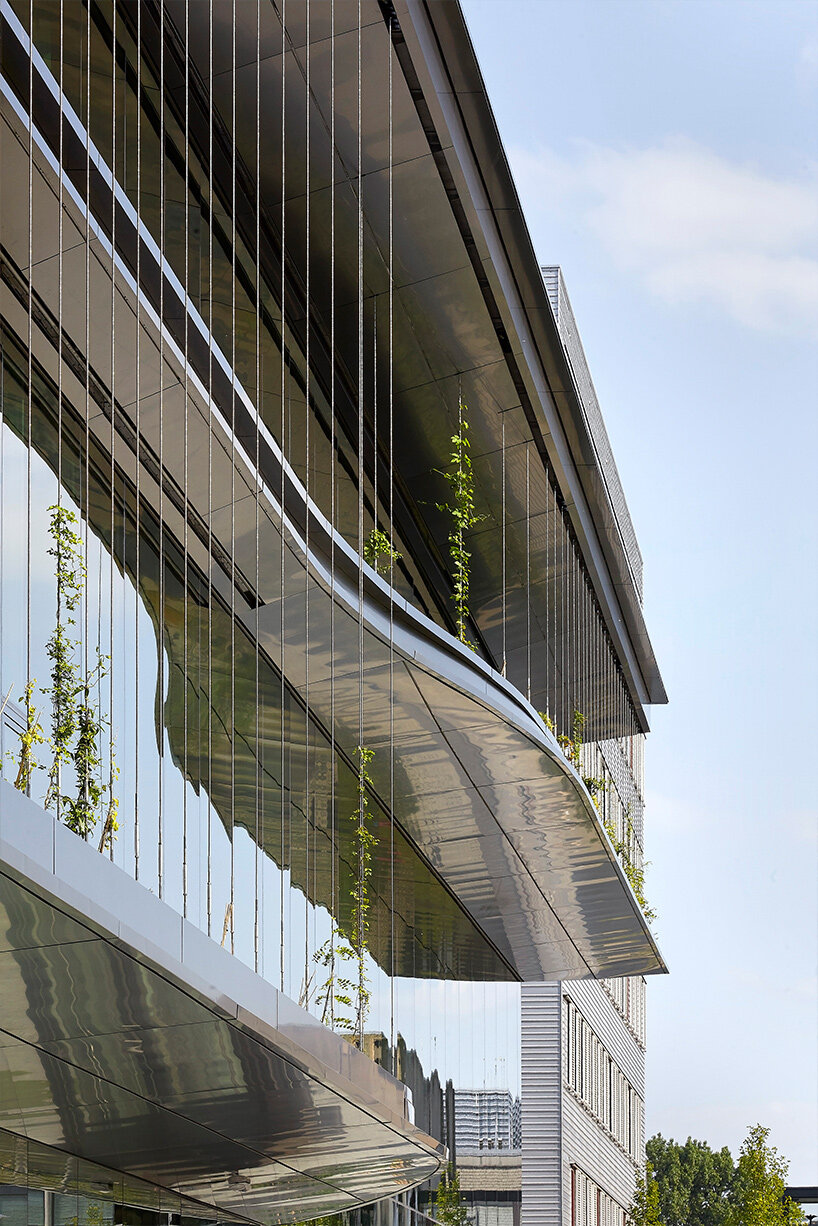 © Hufton+Crow
Future-proof: a wide variety of flexible teaching rooms
The 8,844 sqm Echo building provides space for lectures and tutorials, group work, project-based teaching, debates, and self-study for around 1,700 students by way of the lecture rooms, classrooms, and a variety of study spaces.
Echo houses a total of seven teaching rooms, most with a flexible layout. The largest lecture room on the ground floor, which can accommodate 700 people, can be divided into three separate rooms in 15 minutes. This enables multiple lectures or events to take place simultaneously and enables maximum programming of the space.
The various teaching rooms have been designed based on the current and future needs of the lecturers and students. In Echo, the focus is on medium-sized and large teaching rooms, accommodating between 150 and 700 people. In addition to these larger rooms, there is also a case-study room that is particularly suitable for motivational teaching/interaction between lecturers and students. In addition, there are four level rooms for project-based teaching, each accommodating almost 70 people.