vuild's prototype nesting 0001 house
Japanese architectural tech start-up VUILD has completed their first digitally fabricated prototype house using their home building platform 'NESTING'. The wooden house, titled NESTING 0001, was constructed in 2021 in the town of Teshikaga in Hokkaido, Japan, in parallel to the launch of the beta version of the new web-based platform. In comparison to conventional Japanese timber construction, the house consists of a thick timber frame providing a a high thermal insulation performance despite the harsh, cold climate of the region. The project also utilises the 'Béquille' system, a new method of construction devised by VUILD to significantly speed up the construction process and reduces costs.
With NESTING the start-up aims to challenge and improve the current homebuilding process in Japan, and ultimately make it easier to design and plan, and construct more efficiently and cheaply. NESTING enables anyone to freely design their own building, and based on this first prototype house, the platform will provide a real time estimate to a given design and actively update depending on the different options chosen. Over time, the start-up aims to develop the application so that it can be used simultaneously for everything from land acquisition to output detailed estimates and planning drawings.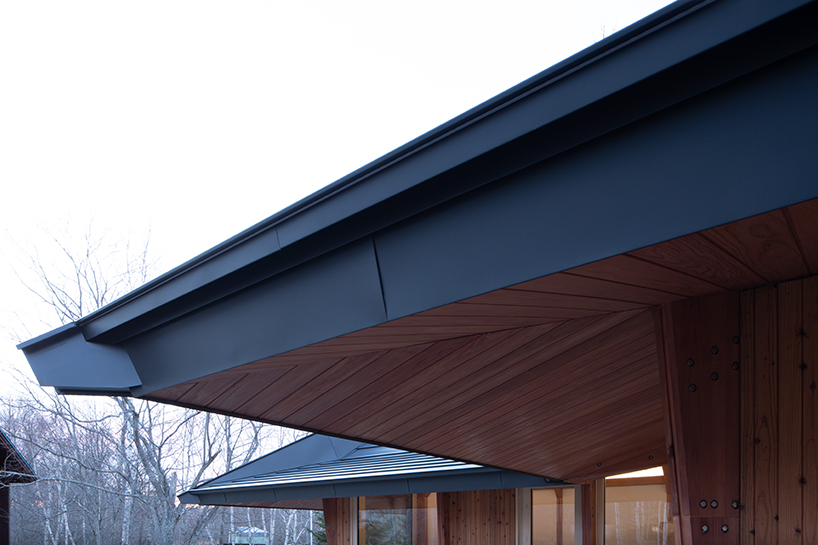 VUILD completes the digitally prefabricated prototype housing using their new digital platform NESTLING
all images courtesy of the author
Béquille system for faster and cheaper construction
For this NESTING 0001 prototype house, the client worked on the design under the supervision of VUILD's designers. The residence is configured in an L-shaped layout, with a large deck located on the southern end facing the main residence. While the living, dining and kitchen rooms have been optimized for the requirements of this specific site and the client requirements, the floor plan can be altered and customized to different uses and needs with the NESTING application.
The Japanese architectural start-up has developed and employed a new democratized construction method, the 'Béquille' system, to create a more time effective construction process, significantly reducing costs. This new system enables elements to be cut by Shopbot machines and assembled by a small team, and can be raised and set in place on site in a single day. It takes an additional three days to fit in the load bearing walls and sashes between its main structure.
For NESTING 0001, a laminated timber Béquille system is used, wherein warp resistant 3×6 plywood is freely cut to shape, bolted to laminated, standardized sheets of solid wood, and then assembled to form the structure. The length of the sheets is limited to 2.5 meters, meaning that many joints are ultimately required to create a single frame.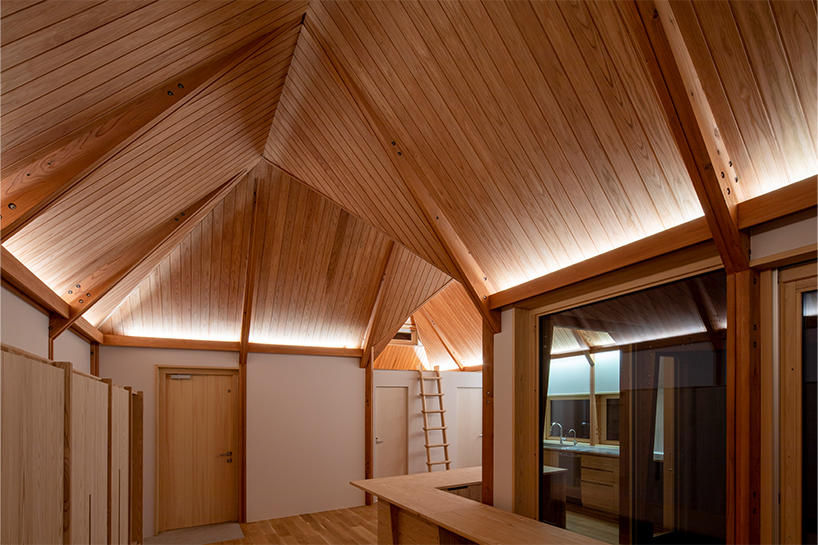 the timber frame was constructed using VUILD's new Béquille' system
efficient thermal insulation
The house is located in the town of Teshikaga, which is encompassed by nature with Lake Mashu, Lake Kussaharo and Akan Mashu National Park covering approximately two-thirds of its area. To suit the cold climate, with an average annual temperature of 5.4°C that can reach as low as -20°C in winters, the wood-frame house achieves G2 of HEAT20, the standard for thermal insulation performance.
In comparison to conventional Japanese timber construction, the walls of NESTING 0001 are much thicker, with ample insulation to helps achieve such environmental standards despite the cold climate. For additional external insulation, the architects utilize timber window sashes, triple-glazed high-performance windows, and hot spring water as a heat source to achieve thermal comfort with a low energy consumption. The architects also install solar panels and storage batteries so that all electricity can be supplied off-grid.
To verify its effectiveness, simulations were conducted to confirm that using a single AC/heater unit will create an ideal thermal comfort environment. With the Béquille system, it becomes easier to identify areas where gaps are likely to occur in the structure, and to mitigate these areas to construct a highly airtight house in a shorter time period and with fewer carpenters on site.