a mini-bed for cats with karimoku cat
These three brands have created cushioned cat homes and beds to help one's furry pets relax and sleep well. With these non-DIY products, cat owners don't need to build anything, but just position the mini-structures in a corner or space in their house and nudge their furry pets to take up the space and even bring their toys with them The list starts with Karimoku Cat Bed (first picture) from Karimoku Cat. Based on the concept of giving the cats a stress-free sleep, the bed draws on Karimoku's expertise in manufacturing beds to create a cushioned resting pad that combines elegance with functionality from the perspective of cats as the company fixes fur-like sheets over the featherlight mattress to match the cat's fur. The bed's oaken structure is soft and supports a cushion that is soft to the touch.
Cats will feel no discomfort on the bed and can enjoy high-quality stress-free sleep. By installing it next to a bay window in a sunlit spot, owners can let their cats enjoy the view outside from inside. Its frame has a rounded, soft form that has been carefully carved from natural wood. By making its curve between a rectangle and an oval, the bed offers sufficient space for the cat to sleep and ensures peace of mind even when the cat is in contact with the frame, as the company puts it. The form of the bed enjoys a sense of tranquility, making it a great addition to any interior space. The cushion gently supporting the cat is filled with cotton foam that is highly porous and keeps its shape well, and the cover is made from micro fur that is 100% polyester and can be easily washed.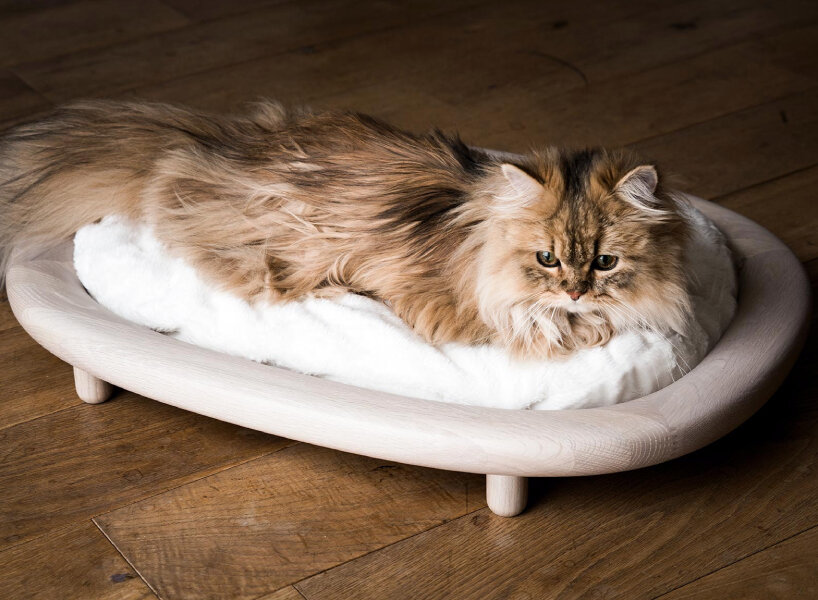 image from Karimoku Cat
A hideaway cat house from & Cat
A hideaway cat house is how company & Cat introduces HÜTTE (picture below), drawn from the German word that means 'mountain lodge'. & Cat's HÜTTE is a compact house for cats who like tight spaces, ideal for a calming hideaway where cats can enter, pad around, and relax. In addition to the doorway, there are holes on the sides and the upper part of the back that make it a playground for both the pets and their owners. The house is made of natural wood decorative fiberboard (oak or walnut material) and is handmade by a furniture craftsman. Finished in a minimalist atmosphere with matte paint, the front and back wood surfaces are veneer, and the house is available in walnut and oak for the material variations and in six colors namely dark gray, white, turquoise, yellow, pink, and light blue. No special tools are required to build HÜTTE as the product arrives in the assembled state.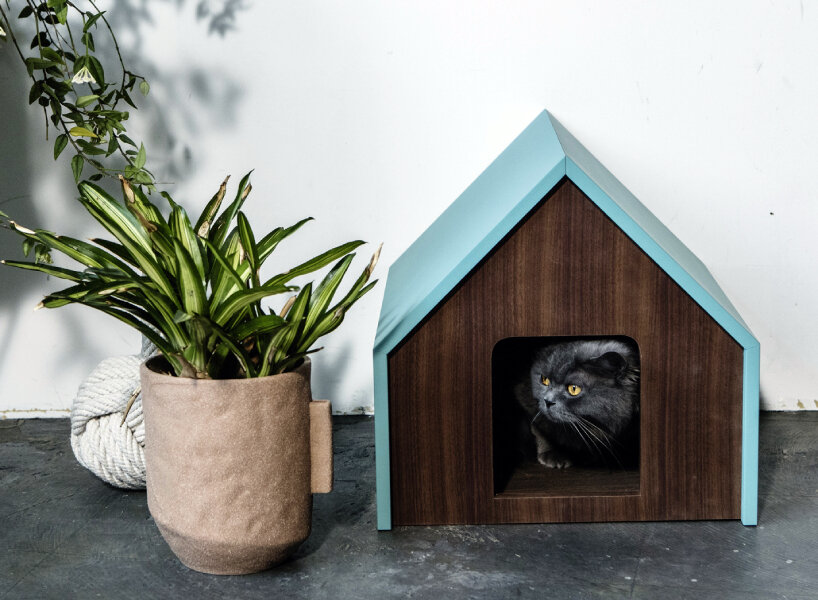 image from & Cat
Handwoven basket cat house from Neko No Tochu
Ghanian craftsmanship revolves around the handwoven basket cat home by Neko No Tochu (picture below) that speaks of 'neko chigura' or a cat house made of straw. The company has a selection of vintage hand-knit wool rugs mainly in Turkey, Afghanistan, and Peru; cushion covers remade from rugs; quilts with hand-sewn embroidery in India; and handmade lighting using vintage fabrics from Thailand and Laos. The new addition to its repertoire comes as a cat basket that doubles as the pet's house, made of aquatic plants for a sturdy material and complete with a handle to let the owners carry their pet with them without suffocating the furry animal. The company says that they order directly from Ghanaian craftsmen and knit the product on their own. They use aquatic plants that are grown in Ghana, but these may depend from time to time depending on their availability on land. The company also says that the cat house may fit in a dog or a puppy that weighs up to seven kilos.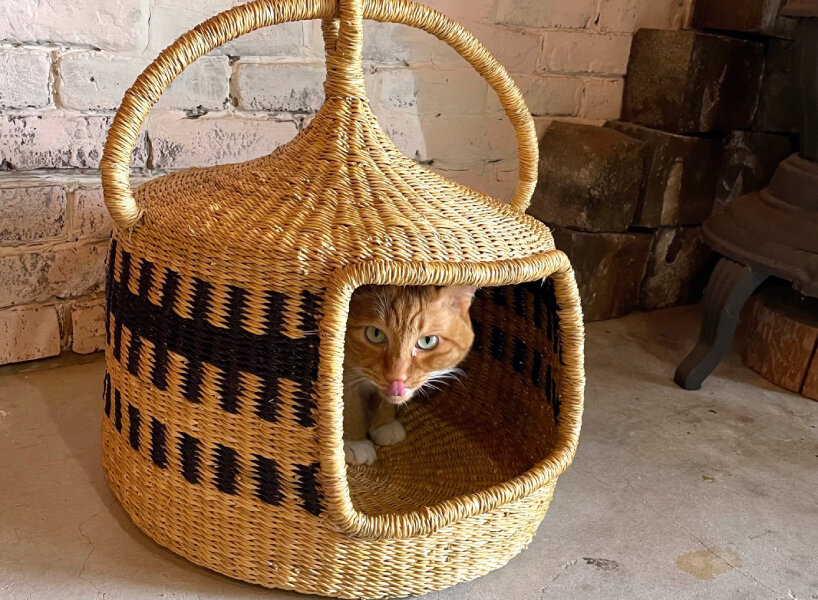 image from Neko No Tochu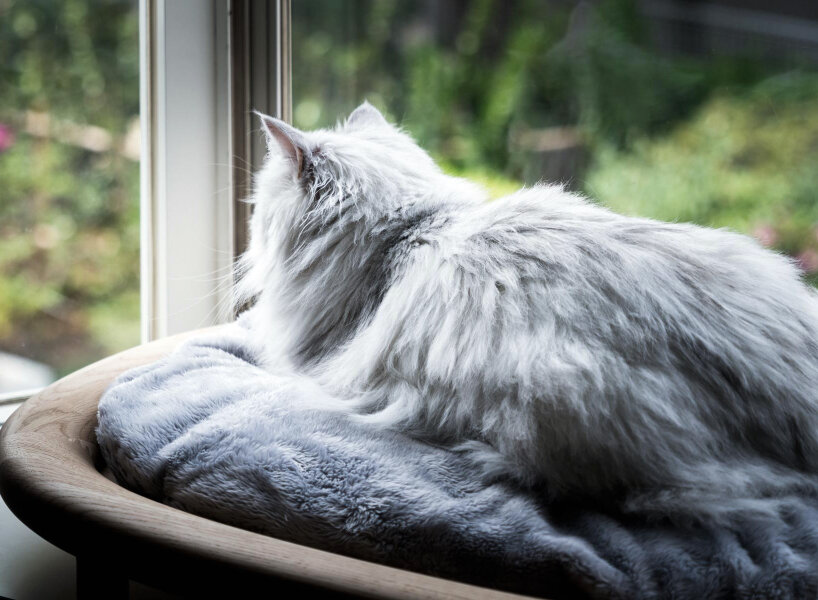 Karimoku cat bed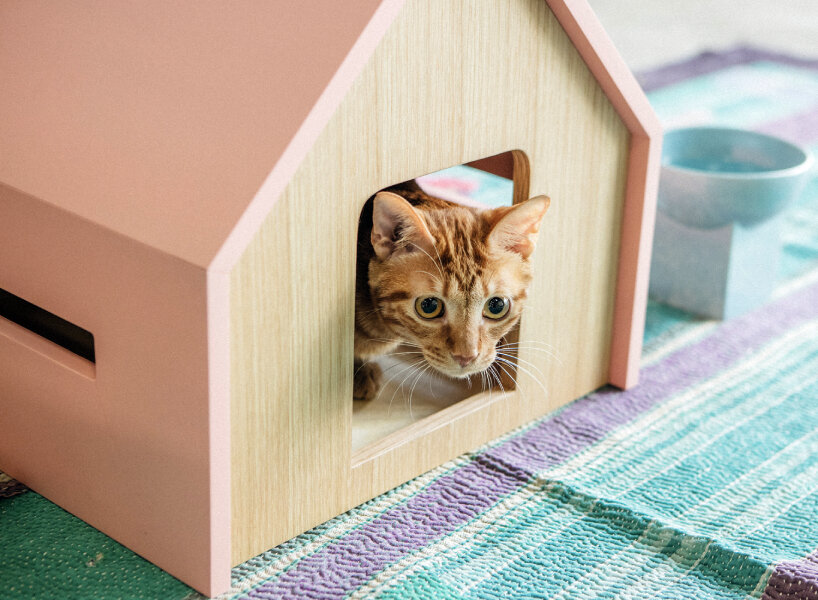 HÜTTE cat house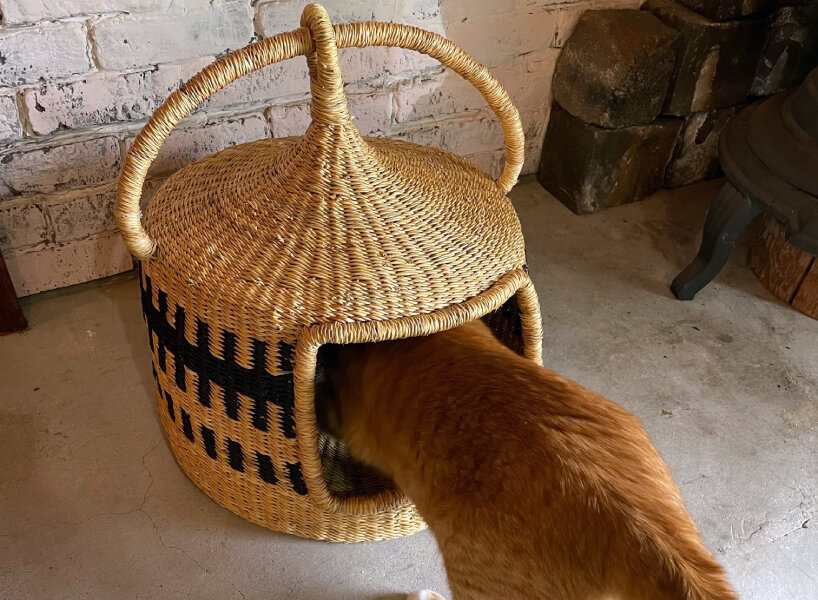 handwoven basket cat house