casa acantilado: a 'cliff house' on the Pacific
Zozaya Arquitectos embeds a monumental work of architecture, dubbed Casa Acantilado, into the coastal cliffs of Guerrero, Mexico. Broadly facing the Bay of Zihuatanejo and the vast Pacific Ocean beyond, the house is characterized at once by its breezy, sunlit openness, and the heaviness of its concrete structure.
Appropriately named to mean 'Cliff House,' the work emerges from the rocky slope like a sheer stone landform, the monolithic base interrupted by sweeping terraces and balconies. It is topped with a lightweight, pala rooftop which further camouflages into the site, surrounded by a canopy of lush trees in which a diverse community of birdlife can be found nesting.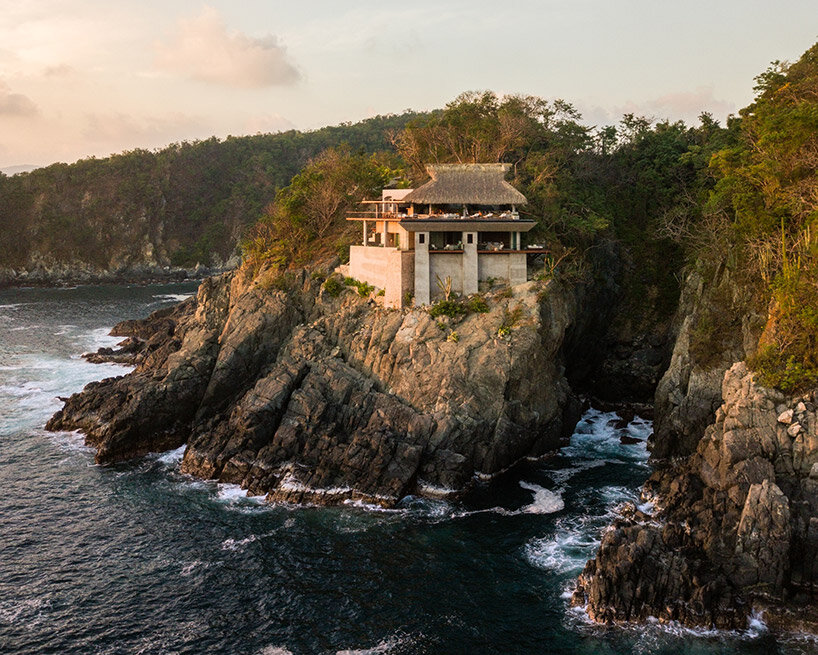 images © Rafael Gamo | @rafaelgamo
zozaya arquitectos draws from the coastal site
Casa Acantilado joins a number of dwellings in the bay of Zihuatanejo that had been designed by Zozaya Arquitectos. The architecture integrates elements of mid-century modernism, twenty-first century luxury, along with traditional techniques and vernacular. Together, these qualities serve to mimic the natural surroundings and celebrate the area with the use of local materials.
Filled with natural sunlight during the day and softly illuminated at night, the architects note that the home stands as a glowing beacon conceptualized as a lighthouse for the fishermen who navigate the waters below each day.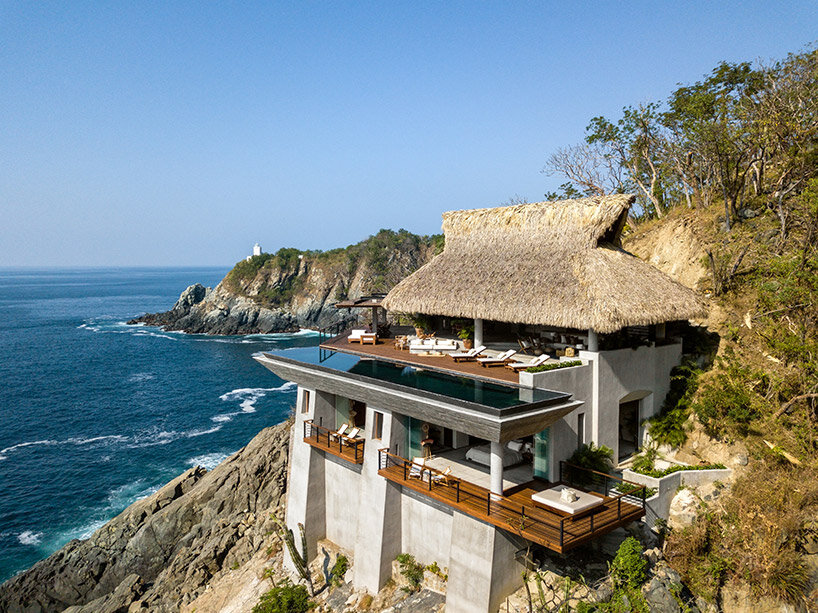 the breezy, sunlit interiors open toward the ocean
The design team at Zozaya Arquitectos organizes its Casa Acantilado as a single volume divided between two rotated geometries. The rotation of these sections serves to direct views towards the Pacific Ocean, while dramatic topography further informed the spatial organization of the house. Entering directly from the topmost level, there is no front door. Instead, occupants are greeted by a large, welcoming 'palapa' which is open on all sides and completely exposed to the cliffs that surround it. The main gathering spaces of the house are situated here.
The palapa is locally-crafted with regionally-sourced material including stone, wood, and palm leaves. The shape of the space shape invites natural light and a natural cross ventilation, helping to reduce energy usage. A cantilevering infinity pool projects outward from the main structure, 'generating a sensation of direct connection to the Pacific.'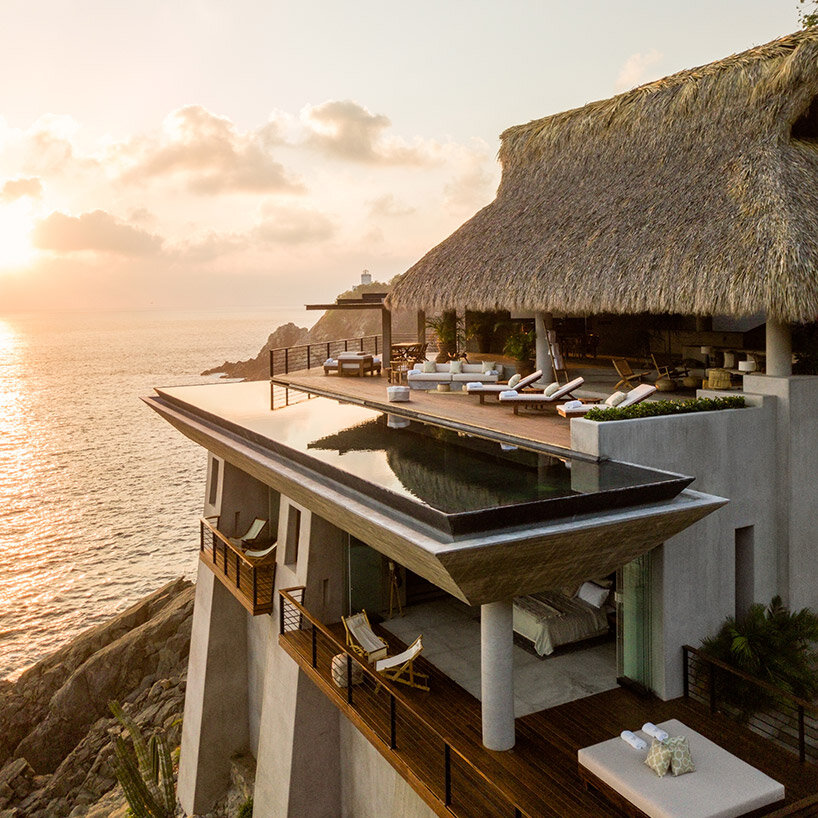 The architects describe the atmosphere of the project: 'The staircase to the private area takes you along uncovered concrete walls which allows you to see the movement of the treetops, feel the exterior while being protected; ending in a pool contained by concrete walls that frame the infinite continuity with the Pacific.
'The lobby links to the rooms, each with private terraces that open to spaces of contemplation towards the incredible landscape.'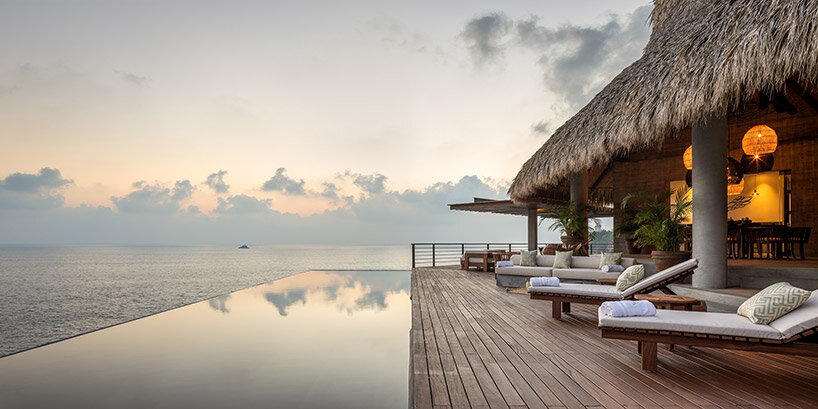 an infinity pool is partially attached to the house and projects out toward the Pacific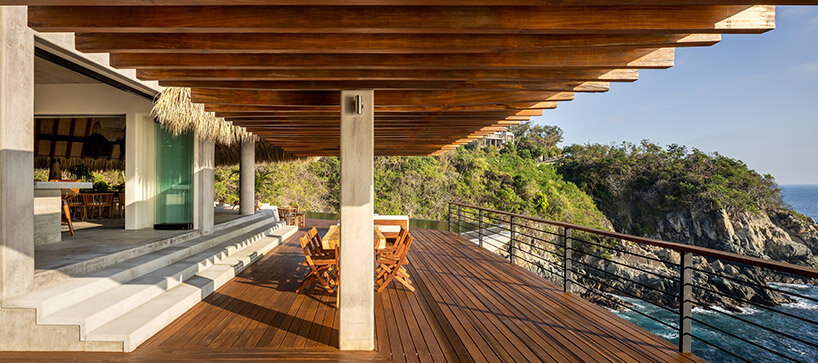 the architecture integrates stone, timber, and palm leaves